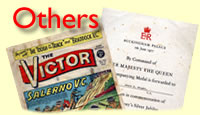 Press Cuttings Peter Wright VC Headline text
There are many press cuttings on these pages.
They can be found in the drop down menus above.
They are listed alphabetically BUT e.g. The Daily Mirror will be found under "D" not "M".
Simply scroll down to your interest and click on your choice - we'll take you there.
Enjoy looking.